A Side of Dreams

by Jani Lauzon
It all started when...
A Side of Dreams began during my Playwright Residency at Factory Theatre in 2009. I worked with John Turner as facilitator/director as we share a common vocabulary having both studied with Richard Pochinko, a mentor who created a methodology I wanted to use to generate material.

It became clear using an aerial hoop would provide the perfect dramaturgical framework for the central protagonist character. I began training with aerial hoop artist/choreographer
Jessica Barrera.
Further development and building the creative team
I followed my residency with workshops in June 2011, February 2012. We also worked in March 2013 at the National Arts Centre with Sarah Garton Stanley as director/dramaturge. We layered the multi-disciplinary aspects together, with a focus on text dramaturgy, incorporating daily choreographic sessions on the hoop and creating a puppet vocabulary.


Puppet Construction
I hired
Trish Leeper
, one of Canada's finest puppet designers, to construct a Banraku puppet and to join the team as a performer. The puppet represents Hasia, the central character, when she enters the Dreamcatcher world. While there, she meets aspects of her generational memory.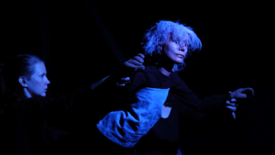 Jonelle Gunderson as assistant Puppeteer
Song Composition/Sound Design
I invited sound designer
Marsha Coffey
on the creative team
,
having collaborated with her on several original scores. To date we have laid down the foundation for the sound design and aim to complete most of the remaining cues during our last workshop, scheduled for March 2013.


Hoop apparatus

I had an apparatus designed and built by Captain Colin Pickard, a machinist and mechanical engineer from AC Mechanical. It is free standing and made of light-weight aluminum and fits in the back of
a Honda CRV.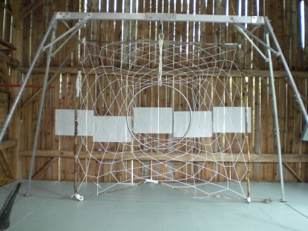 Productions

Summerworks and Beyond

A Side of Dreams had a successful workshop presentation during the Summerworks Arts Festival in August 2013 at Factory Theatre with Ingrid Hansen in the role of Aina and Jessica Barrera taking on the leadership role as Director.


Aki Studio Production

Paper Canoe Projects produced the work in January 2015 at the AKI Studio in Toronto. This successful run included the brilliant projection and lighting design of Melissa Joakim.


Touring Production

We toured the show in September 2015 to Nippissing First Nations, Debajehmujig Creation Centre and FemFest in Winnipeg.

We followed up that tour with a 2 week run at the Debajemujig Creation Centre on Manitoulin Island in July 2016.

We would like to acknowledge the support of:

IATSE 129

Miziwe Biik

bullDUKE Productions

Ontario Arts Council

Canada Council

National Arts Centre

Native Earth Performing Arts