Tsianina Redfeather
,
born Florence Evans, was a Creek/ Cherokee born December 13, 1882 in Oklahoma where her ancestors settled after they were forced to leave their traditional land in the south east and follow the trail of tears.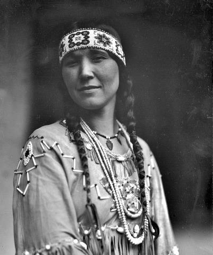 A mezzo-soprano virtuoso, she began touring with composer and pianist Charles Wakefield Cadman at age sixteen.
From 1909 to 1916 they toured giving recitals of Cadman's "Amerindian Indian Music Talk". Cadman, as a self-proclaimed expert on American Indian music, also played an Indian flute. Tsianina "interpreted" his songs.
In March of 1918 the Metropolitan Opera premiered Cadman's opera,
Shanewis
, based on a plot suggested by Tsianina. The cast received twenty-two curtain calls.
Shanewis
was performed eight times in two seasons, and was the first American opera with a contemporary American setting staged at the Met, the first American opera with a libretto by a woman (Eberhardt) and first American opera to be performed in a second season at the Met. Tsinaina went on to perform the role in 1924 at the Denver Auditorium. And again in 1926 at the Hollywood Bowl in Los Angeles.

During World War I, Tsianina, who had two brothers in service, organized an entertainment troupe of twelve Southwest Indian men and toured allied camps in France and Germany. She sang and the men did "spirited Indian dances."

Tsianina retired from singing in 1935, became deeply involved with Christian Science, and spent the 1960s and 70s in Burbank, CA, living with her niece, Wynema Blaylock. The two moved to San Diego in the 1980s and there Tsianina Redfeather Blackstone, also known as Mrs. Arthur Blackstone, died in 1985 at the age of 92. "She was lucid and sharp to the day of her death,`` Blalock said.